FERODO® Expands Its Zero-Copper Brake Materials Portfolio to the OE Commercial Vehicle Segment
Ferodo was the first brand to offer zero-copper friction materials for light vehicles (LVs) – well ahead of industry legislation
Further developed to match the specific demands of commercial vehicles (CVs), copper-free materials were technically released in 2022 with the first OE CV projects underway
CHAPEL-EN-LE-FRITH, United Kingdom, July 20, 2023 (GLOBE NEWSWIRE) -- Tenneco's Ferodo original equipment (OE) braking business, one of the first to offer low- and zero-copper brake pads, has been supplying OE LV customers with low- and zero-copper friction products since 2012. Building on this success, this Ferodo braking technology has been further developed to match specific demands of CVs, particularly heavy-duty trucks and trailers.
Ferodo's advanced brake pad formulations are designed to meet current and forthcoming environmental legislation without compromising pad performance, allowing customers to satisfy markets across the globe with one single specification. Following the OE technical release for CV applications in 2022, first Ferodo copper-free OE CV brake pads were introduced in series production for truck applications in the North American market. Further projects are underway globally, with series production expected during 2023.
Ferodo zero-copper formulations were developed using a tribological fingerprinting process to identify alternative materials that can provide the same stopping performance, noise, vibration and harshness (NVH) characteristics and durability performance as traditional copper brake pads. Ferodo's copper-free friction formulations are also compatible with electronic parking brakes, lighter brake calipers and electric vehicle (EV) braking systems.
"We were able to use our light vehicle experience by following a similar development process, but the actual material formulations are quite different for heavy-duty applications," explained Holger Schaus, Vice President Global Engineering, OE Braking, Tenneco. "In the light-duty area, concerns include comfort and convenience factors such as brake noise. With heavy commercial vehicles, safety, friction value stability and corrosion issues predominate due to the vast variety of applications from vocational to long haul, so disc cracking resistance is an important parameter here."
In Europe, electronic brake systems that provide proper brake force distribution between truck and trailer and high effective secondary brake systems, have been applied to CVs for more than 20 years. While such brake systems enable longer friction material lifetime, new CV brake material formulations must cope with extended exposure to corrosion and reduced energy introduction.
On the other hand, for highly demanding applications in CV markets outside of Europe that don't use an electronic brake system, high temperature stability is requested as heavily laden trucks descending a long gradient may generate temperatures up to 1,000°C. Direct comparison testing on articulated trucks has shown that Ferodo's new zero-copper OE CV brake pads withstand the effects of high temperature, meeting or exceeding the service life of conventional pad materials. In addition to temperature related parameters, they have been validated for friction, wear, noise and their effect on disc life for both truck and trailer applications in extensive field trials to cover the demands in different markets worldwide.
Tribological fingerprinting process used in development
As no single raw material provides a direct replacement for copper, Ferodo applied a process termed 'tribological fingerprinting' to assess the range of elements that might be used as alternatives. The development efforts resulted in an innovative combination of alternative raw materials to replace copper, while still exceeding manufacturers' brake performance and durability requirements.
"Ferodo's comprehensive materials expertise allows customers to introduce suitable brake pads well in advance of legislative requirements, further improving their vehicles' environmental performance and eliminating the need to replace materials later in vehicle product lifecycles," Schaus said. "Ferodo is an industry leader in the development of a range of quiet, high-performance brake pads with low- and zero-copper content."
Over the last couple of years, legislation in the U.S. and other countries around the globe has restricted copper use. Most vehicle manufacturers are therefore seeking global compliance of their new vehicle developments to eliminate complexity from regional variations.
From 2021, copper content, which previously was up to 20 percent, has been limited to less than 5 percent (= low copper). Stricter limits in current legislation require a reduction to less than 0.5 percent, representing "zero-copper" content.
Ferodo will continue with its development efforts to further reduce copper content in brake pad material formulations to enable compliance with even stricter future environmental legislation.
Building on the success of Ferodo's copper-free friction products for light vehicles, this Ferodo braking technology has been further developed to match specific demands of commercial vehicles, particularly heavy-duty trucks and trailers.
Following the OE technical release for commercial vehicle applications in 2022, first Ferodo copper-free OE CV brake pads were introduced in series production for truck applications in the North American market.
IMAGES: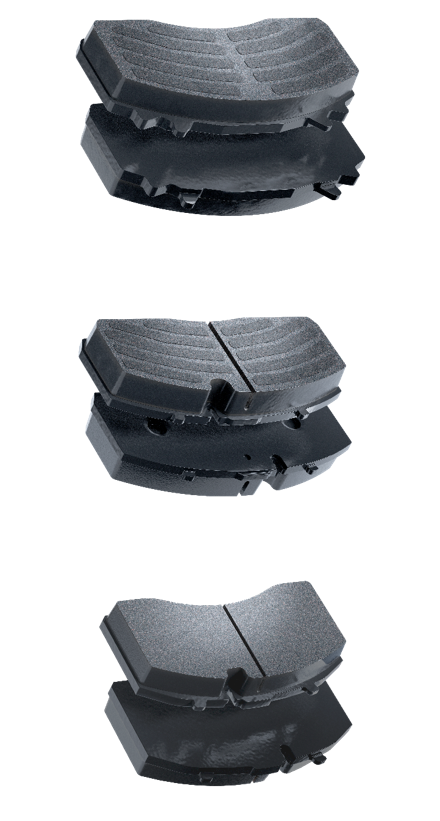 Pictured: three customized variants of Ferodo's new OE copper-free brake pads for CV applications.
https://www.globenewswire.com/NewsRoom/AttachmentNg/11dcc990-3486-41fc-9bcc-0d762b3d0057
© 2023 Tenneco Inc.
About Tenneco
Tenneco is one of the world's leading designers, manufacturers, and marketers of automotive products for original equipment and aftermarket customers. Through our DRiV, Performance Solutions, Clean Air and Powertrain business groups, Tenneco is driving advancements in global mobility by delivering technology solutions for light vehicle, commercial truck, off-highway, industrial, motorsport and the aftermarket.
Visit www.tenneco.com and www.tenneco/braking.com to learn more.
CONTACTS:

Back